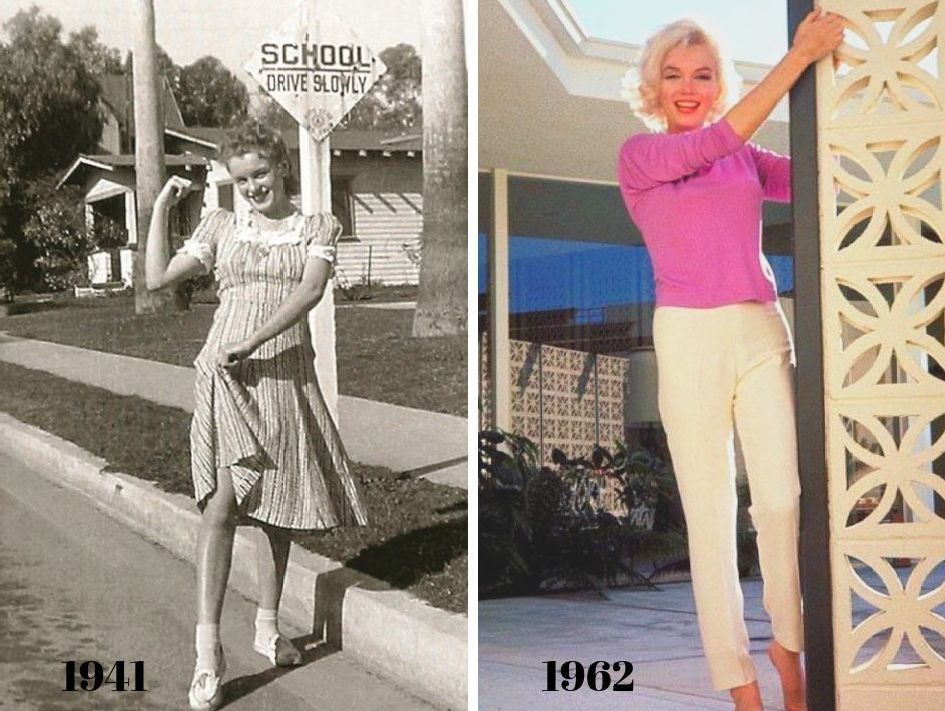 The Evolution of an Icon – Part One
Marilyn Monroe's style was a process of continual transition, and by 1962 she had reached the pinnacle of simple classic elegance. Marilyn had become the Mistress of her own wardrobe. It is important to separate the actress and her performance style from the style of the real woman and her every day living wear, Marilyn at home, reading books, seeing her therapist and taking her dog for walks.
The performance Marilyn was breathtakingly perfect, it was a look that could only be captured on screen with a bevy of stylists, makeup artists and designers, such as William Travilla and Jean Louis – whose attention to detail and structure in their costumes was legendry.
Marilyn wove elements of these designers' talent and imagination into the simplicity of her every day clothing and occasionally borrowing costumes from the set of her latest movie, for important events and formal photo shoots to give added impact.
One of Marilyn's own style icons and someone she was inspired by throughout her life was Jean Harlow, who died in 1937 at the height of her fame aged just 26. Marilyn would forever feel a deep connection to Harlow, and towards the end of Monroe's own career she was in discussions with her friend Sidney Skolsky, regarding a project about the life of Jean Harlow – Sydney was to produce and Marilyn was to star in the leading role, she had met Jean's mother in July 1962, and was scheduled to have a meeting with Skolsky at 4pm on Sunday 5th August, which sadly, Marilyn never lived see.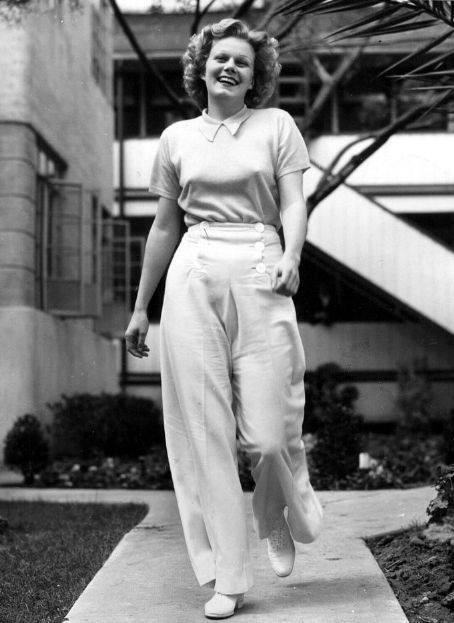 Jean Harlow was on the whole, relaxed and good natured, and she was especially relaxed about the clothing she wore much to the annoyance of MGM's boss, Louis B. Mayer. Before Harlow, stars were not to be seen in public unless they were dressed and made up appropriate to their status – glamorously stunning and near impossible to achieve. Jean on the other hand, loved to slouch around the studio wandering from set to set, in polo shirts and wide legged pants and tennis shoes. Mayer was enraged, he felt that she should live up to her star status at all times, so that she was never caught out by fans or photographers looking anything less than the impossibly glamorous star that she was.
Joan Crawford revealed that she arrived at rehearsals on one occasion in comfortable but she thought, stylish attire, she remembered "I came to the studio very well dressed (I thought) in slacks with my hair back and a scarf around it. He [Mayer] took one look at me, turned absolutely red, and told me to go back home and dress the way a star should be seen in public and to never appear looking the way 'just any woman' would… I never again appeared in public, at least not consciously, looking like 'just any woman'"
With Harlow the reaction was the polar opposite, she ignored the advice and direction regarding her clothing, but unlike others before her, she managed to get away with this rebellious streak and her defiance was tolerated albeit with irritation and gritted teeth.
Although several years separated the two stars – Marilyn was heavily influenced not only by Harlow's glamour but also her informal approach to every day wear. Marilyn was not at all fazed when leaving her apartment, to be accosted by enthusiastic fans requesting her autograph when she was wearing casual clothing with tousled hair and little or no makeup. Photographs taken by her fans with her permission show a happy and agreeable Marilyn.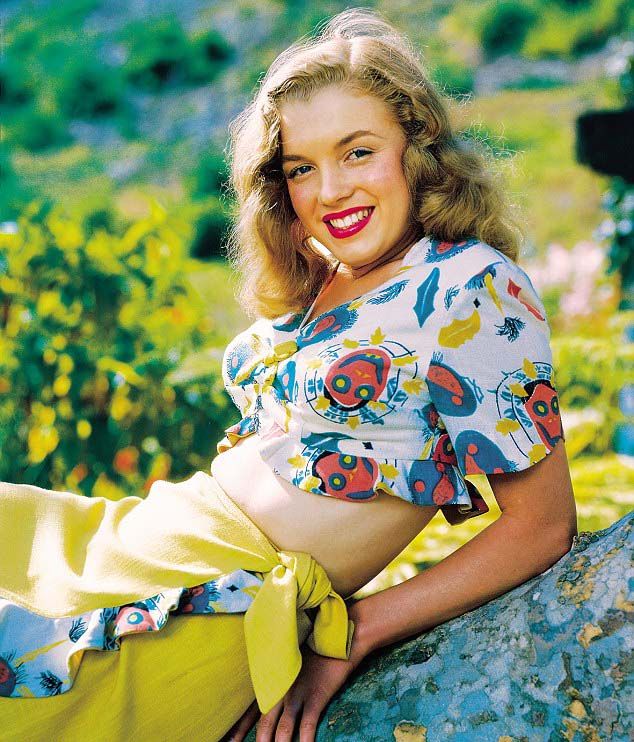 1940's the taming of Norma Jeane
Throughout her life, Marilyn worked on her appearance. In the 1940's, looking back at old photographs of the youthful Norma Jeane, it's clear to see she was as interested in fashion and make up as much as any other teenage girl at that time.
However, this was not the refined elegant, classical look that Marilyn was later to own, this was an eclectic mix of styles, patterns and colours, sometimes worn all at once! The lines of her silhouette were often fussy; she liked flounces and frills, tweeds and stripes, with neck scarves and head scarves. Norma Jeane wore an assortment of suits, skirt and pant suits, floral tea dresses, baggy trousers, check blouses and shirts, her love of all things check continued throughout her life.
One thing Marilyn never appeared to have a huge interest in was jewelry, this is ironic when you consider even today, the character she played in one of her most well known films Gentlemen Prefer Blondes was a diamond chasing gold digging, tiara loving good time girl and 'Diamonds Are a Girl's Best Friend' which is considered the most famous song from that film, will always be associated with Marilyn. The real Monroe however, owned a small amount of jewelry that she wrapped in a cloth and stuffed into the toe of one of her shoes – in complete contrast to the character of Lorelei Lee, Marilyn preferred a good book or a Frank Sinatra record to collecting or wearing jewelry.
Early 1940's photographs of Marilyn are of course, mainly in black and white – only later, when she was working at Radioplane Munitions Factory did the colour photographs of Norma Jeane begin appearing in abundance. A group of photographers were sent to take picture of women working for the war effort – in a letter to Grace Goddard dated 4th June 1945 Norma Jeane tells her about the event
'…After they finished with some of the pictures, an army corporal by the name of David Conover told me he would be interested in getting some color still shots of me. He used to have a studio on 'the Strip' on Sunset [Boulevard]. He said would make arrangements with the plant superintendent if I would agree, so I said oaky. He told me what to wear and what shade of lipstick, etc., so the next couple of weeks I posed for him at different times'
The colour photographs show a young woman who was not afraid to be bold – favouring primary colours of bright red, green, blue and yellow and no fear of striking patterns – this was to change as Norma Jeane transitioned and Marilyn Monroe developed.
PART 2 - to follow