It's THE Marilyn Monroe event of the year! An exhibition of three of Marilyn's most iconic costumes by the legendary dress designer William Travilla, along with one of Marilyn's own elegant cocktail dresses.
This stunning and historical collection will be on display within the luxurious setting of London's Five Star May Fair Hotel.
The dresses are available for viewing from September 24th until October 21st.
At the end of the exhibition, the costumes will then return to Los Angeles, where they are scheduled for auction at the famous Julien's Auction House, going under the hammer on November 1st, 2019.
You can register to bid and follow the auction live at www.juliensauctions.com.
The May Fair has truly embraced the essence of the worlds most recognizable and loved blonde bombshell with limited edition cocktails inspired by each of the dresses.
Indulge yourself in the Lorelai Lee (Gentlemen Prefer Blondes) a delicious feisty fusion of Courvoisier VSOP – Moet & Chandon Brut – Cabernet Sauvignon & cherry reduction with Champagne foam.
Delight in the divine Victoria Hoffman (There's No Business Like Show Business) a delicate blend of Roku gin – Yuzu – St Germain – Spiced honey syrup and egg whites.
Experience the wild temptation of Kay Watson (River of No Return) an intense flavour of Bombay Sapphire gin – Saffron syrup – Orange blossom honey – lemon and Fever-Tree Mediterranean tonic.
Don't accept the fuzzy end of the lollipop! Treat yourself to a Sugar Kane (Some Like it Hot) and take a Bulliet Rye whiskey – Umeshu – Barolo Chinato and Activated charcoal. Give your taste buds a treat and lose yourself in the glamour of Old Hollywood.
The pleasure and the fun needn't end there – it's only just getting started! Take the experience to the next level and book ahead to enjoy a private screening in the May Fair's theatre of one of the four films mentioned. See Marilyn wearing the costumes you've just viewed and enjoy her perfect comedic timing and see why she is hailed as the ultimate Goddess of the Silver Screen!
Gentlemen Prefer Blondes – Friday, September 27th, 7.30 pm
There's No Business Like Show Business – Friday, October 11th, 7.30 pm
River of No Return – Tuesday, October 15th, 7.30 pm
Some Like It Hot – Friday, October 18th, 7.30 pm
Booking in advance is essential, for further details of prices, package options (including dinner at the May Fair kitchen) and availability please visit Eventbrite and email [email protected] or call 020 7915 3892.
#MarilynAtMayFair
The Carmen Miranda style two-piece costume was designed by William Travilla was showcased in the film There's No Business Like Show Business. Marilyn, who played Vicky Hoffman (Parker) wore the outfit as part of a song and dance number.
Her real life husband, the baseball player Joe Dimaggio, made his feelings clear on set when he saw her perform that he was unhappy to see his wife gyrating in what he felt was an outrageously skimpy costume.
William Travilla also designed the red sequined showgirl costume, which could be considered the epitome of glamour for the film Gentlemen Prefer Blondes.
Marilyn and her co-star Jane Russell make their entrance in identical costumes for the opening song and dance sequence 'Two Little Girls from Little Rock.'
The dress was made of heavy silk crepe with thousands of hand stitched sequins. Travilla inserted silver and white sequins on the left sleeve to give the illusion of bracelets. The deep V to the navel at the front of the dress was in a nude fabric to imply bare skin.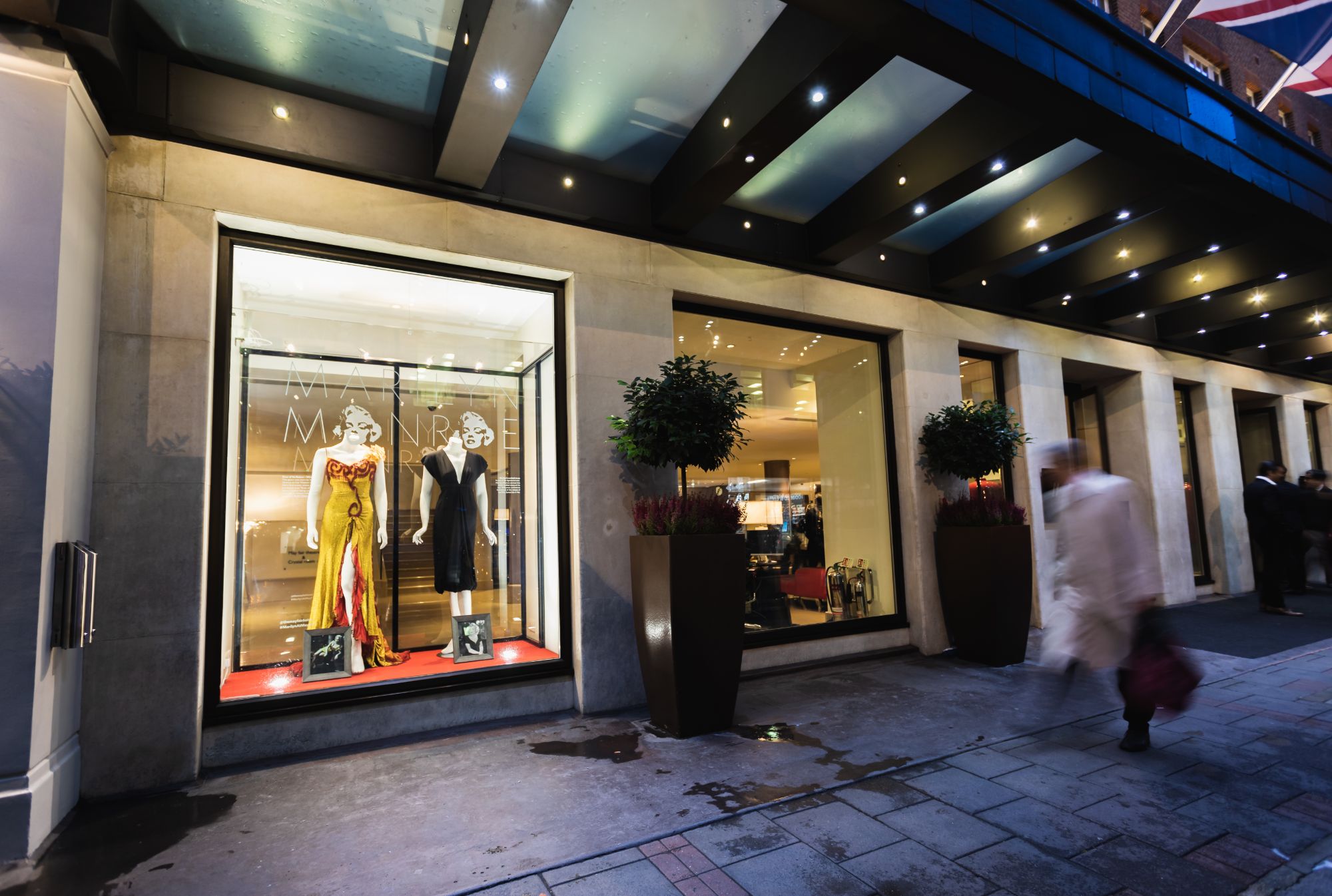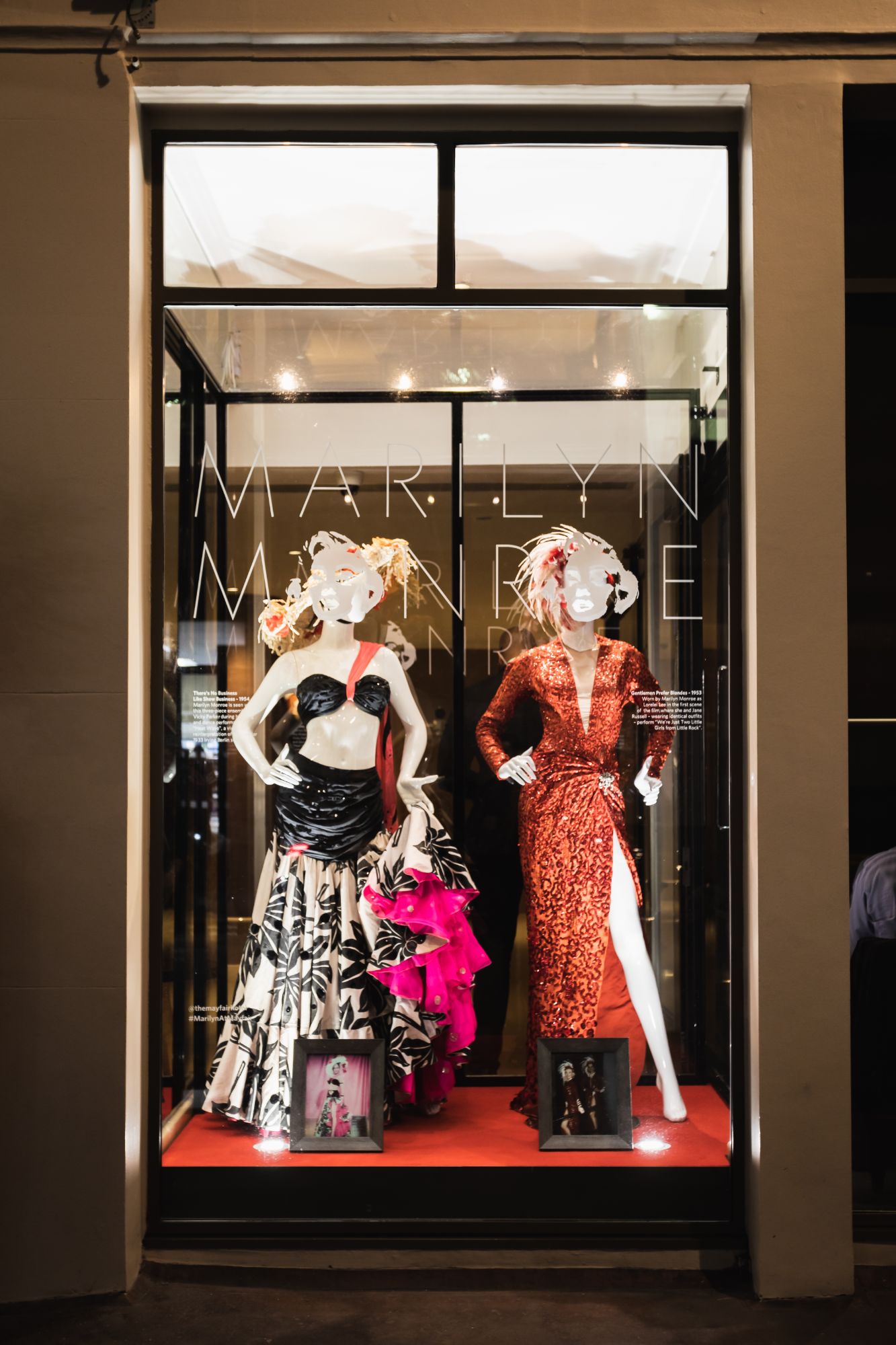 River of No Return & Cocktail Dress
William Travilla also designed Marilyn's costumes for River of No Return, a Western in which she played Kay Weston, a saloon singer – alongside Robert Mitchum.
It was a difficult film for Marilyn, as the director Otto Preminger could not get on with Marilyn's acting coach, whom she heavily relied upon – feelings on set became at times untenable, worsened by bad weather and an accident that involved Marilyn slipping on a rock and injuring her leg, was in a plaster cast for some time.
However, she looked truly sensational in the costume that is now on display at the May Fair as she sung the title song River of No Return.
The gorgeous black cocktail dress on display was worn by Marilyn at the Beverly Hills Hotel for the press reception launch of Some Like it Hot.
An exquisite dress of black silk crepe, with dolman sleeves had a plunge neckline, with material gathered just below the bust which gave an elegant effect. Marilyn purchased the dress at I. Magnin's.