Johnny Hyde

"I took it for granted that she fell
into that category of eager young hustlers…"

Nunnally Johnson on Marilyn's Relationship with Johnny Hyde - pg 42 of
Goddess by Anthony Summer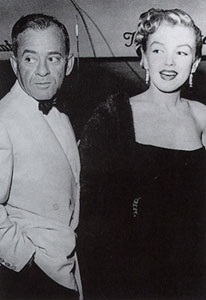 Johnny Hyde made an enormous impact on the life of Marilyn Monroe. According to the biographer Fred Lawrence Guiles, who wrote Norma Jeane – the Life and Death of Marilyn Monroe, Hyde was responsible for launching her career after seeing her in an advance screening of Love Happy where she had a fleetingly brief walk on part. However, there has been a little confusion with Marilyn biographers; one in particular suggests that Hyde actually got Marilyn the walk on part in Love Happy.
Maurice Zolotow in his biography Marilyn Monroe which was published whilst Marilyn was still alive, said that Monroe was having a sandwich at Schwabadero when the girl next to her at the counter said they were finishing up a Marx Brothers picture on the RKO lot, that it was an independent production with Lester Cowan as the producer and they were doing re-takes and needed a sexy blonde for a bit part. She said that she had tried out of it but had been turned down.
Marilyn telephoned Cowan immediately telling him she was a blonde and that she had been considered sexy at 20th Century Fox. Though it should be noted that Donald Spoto in his biography, stated that Johnny Hyde introduced Marilyn to Cowan!
Johnny was born in Russia and had arrived in the USA as a child with the surname Haidabura, which was shortened to Hyde. His parents were acrobats with a vaudeville act. Johnny was raised with show business in his blood. As a teenager he joined the Loew Vaudeville booking office as a manager's assistant. By the time he reached the age of 21 worked as a Junior Executive at the prestigious William Morris agency. His rise was rapid, and he cultivated a reputation of being gentle, kind and civilised. Hyde had held a position of power and soon became a millionaire, representing clients such as Rita Hayworth, Al Jolson and Lana Turner. With power and wealth came women, although he was married he would often be tempted to extra marital affairs. His wife Mozelle Cravens Hyde found it difficult to cope with and was quoted as saying:
"I tried to take it for a long time, but in the end it was impossible. I'm a tolerant person, but there is always a limit. I remember once Jimmy [their son] was down in the cellar looking over some old things of his father's and he found Marilyn's nude calendar. He brought it upstairs, but I was so annoyed over that whole business, I made him get rid of it"
Of her first meeting with Johnny Hyde in 1949 Marilyn was 22 and Hyde 53, Marilyn told Zolotow:
"I met Johnny at Palm Springs in nineteen-forty-nine. I went with these people for a weekend, and Johnny Hyde saw me from a distance and Bernard what's-his-name, this photographer, said he'd like to take some pictures of me, and we went to the Racquet Club, and Johnny was there and met me, but I didn't remember it but he did. He was among many strangers I was introduced to, and it didn't take the first time. It was at the pool he said I was swimming in it, and we were introduced at the pool. Then he was over at the people's house I was staying with, and that's when I remember him. We had some drinks and we talked. Johnny was marvellous, he really was. He believed in my talents. He listened to me when I talked, and he encouraged me. He said I would be a very big star. I remember laughing and saying it didn't look like it because I couldn't make enough to pay my telephone bill. He said he had discovered Lana Turner and other stars and that I had more than Lana and it was a cinch I would go far. He had seen me in Love Happy, which was just released. He explained something to me that I didn't realise before. This was that if you are a star it is hard to find little roles. They either have to give you a star part, even if it isn't big, or nothing. I couldn't love him as much as he did me, but I did not go out with any other men during the time I was seeing him, not seriously. Isn't it sad that I loved Freddy and he didn't love me and then here's Johnny in love with me and I didn't return his love? But Johnny was kind to me and I was faithful to him"
A producer whom Zolotow queried about the importance of Hyde's influence in advancing Marilyn's career told him:
"Only one man was responsible for making her a star. That man was Johnny Hyde, he had faith in her when she was a starlet and a damned unimportant starlet. When you had Johnny in your corner, you had a pipeline to the guys that really count in Hollywood, you had the ear of Zanuck at Twentieth, of Schary at Metro, Don Hartman at Paramount, Jack Warner at Warner's. He talked her up everywhere he went, and you got to realise that a guy like Johnny, he had the entrée everywhere, the best country clubs, the big parties at the best homes, and everybody sat and listened to him because he had a hell of a track record of proven winners at the box office"
When Johnny first became her agent Marilyn was living with Natasha Lytess (her acting coach) the moment Hyde and Lytess met they clashed and became firm enemies immediately. Natasha described Hyde as a 'hunchback' but he was actually a rather attractive man of under average height. At around 5'3 he was nearly 2 inches shorter than Marilyn. When Johnny moved out of his family home he rented a house on North Palm Drive, Marilyn left Natasha and moved in with him, this caused the two women to quarrel violently. Natasha felt it would ruin Marilyn as an actress; she wanted to develop her as a serious actress whereas she felt Johnny was just interested in getting her glamour roles and was happy for her to continue the dumb blonde persona that these roles reinforced and typecast Monroe as the stereotypical empty-headed honey.
Johnny fell deeply in love with Marilyn, but unfortunately for him, this was a very one sided love affair. Marilyn cared deeply for Hyde and was very much in love with him as a friend but did not have the feelings for him as a life partner. Although Johnny openly declared his love for Marilyn, he was also known to refer to her in her presence as a 'chump' his word of a mindless woman of easy virtue and he could be openly abusive to her.
Johnny invested time and money in Marilyn to improve her appearance and her knowledge. Spoto claims a Beverly Hills surgeon named Michael Gurdin removed a slight bump of cartilage from the tip of her nose and inserted crescent shaped silicone prosthesis into her jaw beneath her lower gum. In his biography Goddess Anthony Summers claims that Hyde persuaded her to have an operation to prevent conception. Donald Spoto interviewed one of Marilyn's later associates Peter Leonardi, who said that Hyde had urged her to have a fallopian tual litigation. That she agreed at first but never had it done. According to her gynaecologist Dr Leon Krohn rumours of multiple abortions are ridiculous, she never had one, later there were two miscarriages and an ectopic pregnancy requiring an emergency termination. It will probably be sometime, if ever, that the public know the truth about Marilyn's medical history as her notes remain sealed.
Hyde bought Marilyn new gowns and shoes from Saks in Beverly Hills, hired hairdressers to regularly bleach her hair and took her to every film colony party to which he could get an invite, every opening, every night club performers first show 'he spent thousands of dollars escorting her around Hollywood' Natasha wrote bitterly 'yet when it came to personal gifts to Marilyn, his tight fistedness was almost bizarre… when I helped her choose two pairs of earrings... "My God" he shouted, "Two pairs of earrings – how many ears have you got?"'
Johnny was well read and mentored Marilyn in her reading and politics. Marilyn said
"Johnny inspired me to read good books, to enjoy good music, and he started me talking again. I'd figured early in life that if I didn't talk I couldn't be blamed for anything"
Between Hyde and Lytess they shaped a love of Russian culture, literature and political attitudes in Marilyn. It was Johnny that planted the seed when he compared her to Brothers Karamozov's Grushenka Dostoevsky's lusty complex character, mentioning that it could be a suitable role for Marilyn, according to Spoto it is possible that this was a light hearted remark, almost a joke, however, Monroe took the remark in total seriousness and became obsessed with Grushenka and the need to play her.
Johnny's close friends and colleagues had mixed views on Marilyn. Some of them could see what Johnny saw and thought she was vulnerable and needed their protection; others thought the lost, vulnerable little girl personality was all an act and tried to discourage Johnny.
When Mozelle divorced him, Hyde asked Marilyn to marry him but she turned him down. She told him she loved him but that she was not 'in love' with him. Johnny would have been happy with that, but Marilyn would not compromise and was adamant that she would not marry him. Her rejection made him even more persistent. Although she told him that she was rejecting him on grounds of ethics, i.e. it wouldn't be right to marry someone she wasn't in love with, Marilyn was no ones fool, she knew that if she had of married him she would have been labelled a gold digger and worse still Johnny was in failing health, she told Rupert Allen that she would have lost any hope of being taken seriously in the industry. She had confessed to Lucille Ryman Carroll that marrying Johnny might be a disadvantage to her career and would effectively ruin her reputation beyond repair.
Johnny realised that the only thing that truly mattered to Marilyn was the possibility of stardom and he worked relentlessly to give her the opportunity to achieve her ambition. He negotiated her first major break, a role in the Asphalt Jungle directed by John Huston. He also managed to get her a minor role in Fireball with Mickey Rooney to which she protested but Johnny insisted the public needed to see her as often as possible. He also got her an audition for Ticket to Tomahawk for which she was hired, again, another small insignificant part but it kept her in the public eye.
Having been previously dropped by Fox, in March 1950, he persuaded Darryl Zanuck to take her back to the Fox lot and sign her to a seven-year contract. He wanted her back at Fox because he had heard about the role of Miss Caswell in All About Eve and believed this would be an important part for Marilyn.
By the end of 1950, Marilyn had 6 films in release, and was a rising star but Johnny's efforts had taken their toll on his health. The constant round of parties, dancing and social networking was simply too much. When the first heart attack occurred Hyde went to Cedars of Lebanon Hospital and was advised to slow down but he just couldn't bring himself to follow doctor's orders, with desperation to establish Marilyn he increased the pace. Anxious to provide for Marilyn financially, Johnny continued to press her to marry him.
Eventually, Johnny's weight had dropped so low his chauffer would carry him up the stairs each night. Although Marilyn had been adamant that she would not marry Hyde, Sam Berke his business manager said that Johnny had told him that she had agreed and around the same time Hyde's brother dropped by the house to urge Johnny not to marry Marilyn.
At the beginning of December Johnny was re-admitted to hospital complaining of shortness of breath. The doctors discovered he had a secondary coronary occlusion. After three or four days in hospital, Johnny requested that his secretary Dona Holloway accompany him to Palm Springs as Guiles states in Norma Jeane – The Life and Death of Marilyn Monroe that Marilyn still had bandages on her nose – however, it must be remembered that it has never been conclusively proven that Marilyn underwent rhinoplasty at any stage of her life. Worried that time was running out, he contact Sam Berke to find out how he could provide for Marilyn's future. Berke advised him that he would have to make a new will.
On the 16th December Johnny suffered his final heart attack, eventually dying on Monday 18th December, 1950. According to Guiles, Marilyn had followed the ambulance to Cedars of Lebanon Hospital and stayed by Johnny's side all that night. However, Spoto in his biography claims that on the 16 December Marilyn went to Tijuana with Natasha for Christmas shopping and it was whilst they were away that weekend that Johnny died and by the time Marilyn caught up with him he had been dead several hours.
Whilst in an oxygen tent he had apparently requested that Marilyn be 'treated as one of the family' After Johnny's death the first thing his family did was to order Marilyn out of the Palm Drive house. Marilyn went straight to Natasha's.
There are a lot of conflicting stories that have arisen out of the aftermath of Johnny's death and surrounding his funeral. One thing that all the biographers do seem to be able to agree on is that it was made clear to Marilyn that she would not be welcomed at the burial at Forest Lawn. The Biographer Maurice Zolotow tells us that Marilyn arrived at the service and threw herself across the coffin and cried
"Wake up, please wake up, Oh my God, Johnny, Johnny"
Marilyn herself had reportedly written of her loss
"My greatest friend was buried" she wrote "I was without his importance to fight for me, without his love to guide me. I cried for night after night. Sometimes I felt wrong in not marrying him and giving him what he wanted. But I also knew it would be wrong to marry a man you didn't really love. I didn't regret the million dollars I had turned down. I never stopped regretting the loss of Johnny Hyde"
another version of the story is that she attended with Johnny's secretary Dona Holloway and her husband, ignoring the request for her not to attend for the sake of Johnny's children. Guiles tells us that Hyde's second son Jimmy remembered the scene at the cemetery;
"All I can recall clearly is Marilyn screaming my father's name over and over again. It shook everyone"
Donald Spoto on the other hand relates rather a different story. Whilst he also suggested that Hyde's ex wife Mozelle and their sons requested that Marilyn be excluded from the service, he has Marilyn and Natasha Lytess both veiled and convincing the guards that they are family servants. An hour after everyone has gone Marilyn steps quietly to the grave and plucks a single white rose from a floral tribute, which she then kept for many years pressed into a bible. There is no throwing herself prostrate on the coffin, Natasha insisted that Marilyn was dignified in her grief and that they sat quietly until twilight when the attendants asked her gently to leave.
The days immediately after Johnny's death left Marilyn feeling miserable and reclusive, staying in her room for much of the time whilst at Natasha's. On one occasion Natasha had gone out on some errands and returned early than expected to find a note on Marilyn's bedroom door saying 'Don't let Barbara in' (Barbara was Natasha's 4yr old daughter). When Natasha went in she found Marilyn with approximately 30 Nembutal tablets crammed in her mouth. They had not been swallowed because her throat had dried up in terror. Natasha had not been due back for another 5 hours.
This was the first recorded instance of Marilyn attempting suicide.
She confided to Natasha "I knew nobody could help me like Johnny Hyde, but I felt sorry for him too, and he was crazy about me. I never lied to him, and I didn't think it was wrong to let him love me the way he did. The sex meant so much to him, but not much to me"
Sources
Zolotow, M - Marilyn Monroe, pg 84
Guiles, Fred Lawrence - Norma Jeane – The Life and Death of Marilyn Monroe, pg 158
Zolotow, M - Marilyn Monroe, pg 90
Zolotow, M - Marilyn Monroe, pg 91
Spoto, D - Marilyn Monroe the Biography, pg 161
Spoto, D - Marilyn Monroe the Biography, pg 161
Zolotow, M – Marilyn Monroe, pg 106
Zolotow, M – Marilyn Monroe, pg 106
Guiles, Fred Lawrence - Norma Jeane – The Life and Death of Marilyn Monroe,, pg 182